So if you haven't already seen, Sleek have brought out a whole collection of Matte lipsticks which are not only affordable (£4.99 Each!!) but also display an amazing array of colours, including my fave - 'Lavender' pictured above!

I kept seeing these all over social media, so I set off and got myself a whole load. Skeptical at first, this colour appeared to be somewhat too 'bold' for me, but when paired with a subtle lip liner, the colour actually stands out in a striking way! I'm in love!

Powered by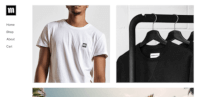 Create your own unique website with customizable templates.